I like doing activities with my kids with items we have around the house already. It not only promotes creativity, but saves me a trip to the local craft store! That's why I like sock puppets. Assuming you have a relatively clean sock, you're half way there. If you don't want to use your last pair of clean socks on a kid activity, grab one of those socks you can't find the match to. Might as well put that single sock to good use so it doesn't take up space in your sock drawer!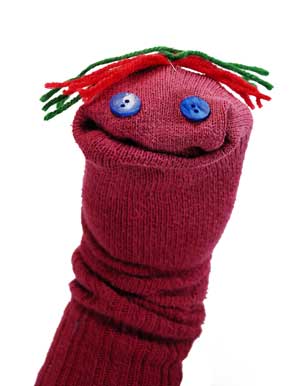 Here's What You Need to Make Sock Puppets:
Sock
Marker
Buttons
Yarn
Needle
Thread
Scissors
Here's How to Make a Sock Puppet:
1. Put the sock on your kid's hand and push the toe of the sock into the palm of their hand to create the mouth.
2. Use the marker to dot where the buttons will be sewed on for eyes.
3. Sew the buttons on where the dots are.
4. Cut pieces of yarn for the puppet's hair.
Will your puppet sport a long hairdo or a wash and go cut?
5. Gather the yarn together in the middle and sew it to the sock by repeatedly looping the thread around the yarn and pushing the needle through the sock.
Now your kid has a sock puppet and you get free puppet shows all afternoon!
Popularity: 2% [?]
Or read these related articles...